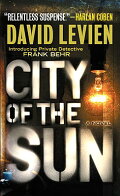 Gestern fast gefeuert worden, heute ein Missverständnis mit dem Mitbewohner gehabt,... macht dem Arbeitsgeber nichts, geh ich zumindest mal von aus.
Somit hab ich den Tag heute daheim verbracht. Eigentlich wollte ich gegen 4 Uhr in den 'Botanical Garden' gehen, aber entschied mich dann dagegen, obwohl das Wetter echt spitze war (im nachhinein gut, weil ich gemerkt hab, dass der Kamera-Akku leer war) und bin auf dem halben Weg umgedreht und zum Buchladen. Mein neues Buch sollte also "City of the Sun" sein. Wie der Zufall es so will, handelt es auch von einem Kind, das davon gerannt ist. So scheint es zumindest, besser gesagt es ist vermisst, noch weiß ich nicht was genau abgeht hab nur die 2 ersten Kapitel gelesen.
Isomatte, 3 Hunde, ein Buch und viel Sonnenschein ist also alles was cih den Tag habe.